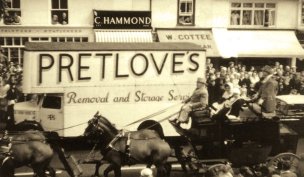 A family-run removals company
In 2004, Pretlove's very proudly celebrated 100 years and four generations as a family-run removal and storage company.
Founded in 1904, in the days of the horse and cart, Pretlove's removals and storage company has progressed from its original base in Epping to depots in Great Chesterford, near Saffron Walden and Haverhill, the latter being completed in 2003. The company now covers all areas from London, Essex, Hertfordshire, Cambridgeshire and Suffolk, offering household furniture and commercial removals either locally, within the UK or worldwide.
Family ideals are still a top priority and Pretlove's pride themselves on their high quality of work and personal service.
The company was founded in 1904 by Charles Pretlove (senior). Originally a greengrocer and removal business combined, it operated from a shop in Epping High Street. A second generation became involved when, on returning from the First World War, Charles Pretlove Junior continued the family business as a fruiterer and greengrocer and a service offering "Goods Removed".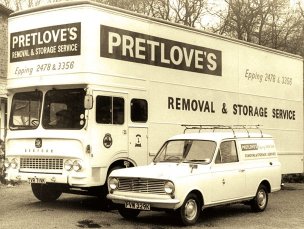 The removal side of the business continued to flourish and in the 1920's Charles Pretlove moved into the business' present day head office at "The Poplars", which was then two cottages.
It was in the 1930's that Pretlove's acquired their first motorised removal van which gave the company more scope to carry out removals further afield. In the mid-1930's a third generation, Charles' son Jack, joined the business. The business continued to expand and in the mid-1940's a second vehicle was added to cope with the increasing demand.
Maintaining family tradition, in 1960 Jack was joined by his sister Mavis as a partner in the business. Year-on-year the company's fleet of vehicles expanded to 10 by 1970.
In 1981 Jack's son Adrian became a partner in the business, again maintaining the strong family tradition which has been with Pretlove's since its formation, and his sister Anne joined some ten years later.
The company's facilities for furniture storage, self-storage and document storage expanded further in 1984, opening a new warehouse at Thornwood, near to its Epping base, and then in 1988 at Great Chesterford - both purpose-built to deal with its expansion in offering containerised storage to reduce handling.
The need for storage continued to grow and in 1995 Pretlove's opened a third new containerised warehouse at Merlin Way, North Weald, and more recently a new warehouse and depot in Haverhill, Suffolk to cope with demand in that area; its current capacity is for over 1200 containers.
With the world becoming a smaller place, overseas removals have grown in number and Pretlove's offers full or part-load services to Europe and the rest of the world.
Throughout its history as a family business, Pretlove's has always had personal service as its main objective and this feeling is passed on by its office staff and team of movers, many of whom have been with the business throughout its expansion. Maintaining personal service and high quality of work, particularly when clients are experiencing one of the most stressful times of their lives when moving, remains a high priority for Pretlove's. With their well-equipped fleet of pantechnicons, courteous and experienced staff, Pretlove's feel that they can offer the best in removal and storage services.