Pretlove's is a family-run removals and storage company established in 1904
Hertford Removals Company
Request a quote
Are you looking for removals to Hertford?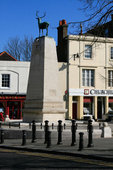 Contact Pretlove's if you need removal and storage services in Hertford or the surrounding area.
The historic market town of Hertford is in the east of Hertfordshire county, with a population of 24,000. It was once a major market for agricultural produce, chiefly corn, and with its proximity to London it provided a royal residence and a base for leisure for the nobility. Today, Hertford town centre is largely a conservation area, and boasts a Norman castle, many specialist shops and lots of bars and restaurants. Hertford is a commuter town for London and has two railway stations, and good road links to the M11, A1, M1 and M25 motorways. Local bus services also provide links to surrounding towns and Stansted, Luton and Heathrow airports.
Pretlove's Removal and Storage Service can move you to all the suburbs and villages of Hertford, including: Bengeo, Broadoak End, Hartham, Hartingfordbury and Waterford, and to the nearest main towns of:
Broxbourne
Hatfield
Hoddesdon
Ware
Welwyn Garden City
Pretlove's would love to help with your Hertford removals or storage requirements. You can find local information and contacts on our Hertford Moving Guide page.
Request a quote
Why choose Pretlove's for Removals to Hertford?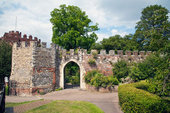 Pretlove's is a family-run removals and storage company established in 1904. We carry out both household and commercial removals to all parts of the United Kingdom as well as European and overseas destinations. We have some of the most up-to-date warehouse facilities, purpose built for the safe storage of household furniture and effects.
The removals firm has been in the Pretlove family for four generations. Many of the movers in our dedicated removal team have years of experience. They will ensure your property is treated with the expertise and care you would expect.
We are aware of the stress that house moving causes, but more than 100 years of removals and storage experience has taught us how to reduce this. We have a wealth of moving tips to help your household move go as smoothly as possible.
Why Move to Hertford?
Welcome to Hertford, a delightful town nestled in the heart of the picturesque Hertfordshire countryside. Moving to Hertford means embracing a charming and idyllic lifestyle with a close-knit community and a wealth of attractions to explore.
First and foremost, Hertford offers a perfect blend of history and modernity. The town's rich heritage is evident in its ancient streets, timber-framed buildings, and Hertford Castle, which dates back to the 15th century. Immerse yourself in history as you stroll along the River Lea or visit the Hertford Museum.
Hertford boasts a vibrant town center with a diverse range of independent shops, boutiques, and cozy cafes. Explore the bustling markets and sample local produce, or unwind in the numerous parks and green spaces that offer tranquility amidst nature's beauty.
The town has excellent educational facilities, with a variety of primary and secondary schools catering to different needs. The presence of outstanding schools ensures a quality education for families with children.
Hertford's central location provides easy access to both London and the surrounding countryside. Commuting to the capital is convenient, while the town itself offers a peaceful respite from the hustle and bustle of city life.
The community spirit in Hertford is truly special. Engage with friendly locals at community events, fairs, and festivals, or join one of the many social clubs and societies to pursue your interests and make lasting connections.
Transport links are excellent, with Hertford East and Hertford North railway stations providing connections to major cities and towns. Enjoy exploring the wider Hertfordshire region, with its charming villages, historic landmarks, and beautiful countryside.
In summary, Hertford offers a unique blend of history, natural beauty, and a warm community atmosphere. Whether you're captivated by its heritage, seeking a peaceful and picturesque setting, or looking for a friendly and welcoming town to call home, Hertford promises a truly enriching and fulfilling experience.
Request a quote
Property Prices in Hertford
Hertford offers a diverse range of property prices. As with any real estate market, prices can vary based on factors such as location, property type, size, and condition.
Hertford has a mix of properties to suit different budgets. The town offers a variety of housing options, including flats, terraced houses, semi-detached houses, and detached houses.
Property prices in Hertford tend to be higher compared to some surrounding towns and cities in Hertfordshire, reflecting its desirable location, amenities, and historical charm. However, it's worth noting that Hertford's property prices can still be more affordable compared to some areas closer to London.
According to Zoopla, the average sold price for a property in Hertford in the last 12 months to July 2023 is £450,000.
Different property types in Hertford have different average sold prices over the last 12 months:
Detached - £950,000
Semi-detached - £630,000
Terraced - £475,000
Flats - £300,000
It is advisable to consult with local estate agents or online property portals to get the most up-to-date information on property prices in Hertford.
Schools in Hertford
Hertford is home to several schools catering to different educational needs. Here are some notable schools located in Hertford:
These are just a few examples of the schools in Hertford. The town also offers a range of other primary schools, nursery schools, and special educational needs schools to cater to different age groups and requirements. It's advisable to research further and consider specific educational needs when exploring school options in Hertford.
Local Attractions & Social Clubs in Hertford
Hertford offers a range of local attractions and social clubs for residents and visitors to enjoy. Here are some highlights:
Hertford Castle: Explore the historic Hertford Castle, a 12th-century motte-and-bailey castle surrounded by beautiful gardens. Discover its rich history, visit the museum, and enjoy events held within its grounds.

River Lea: The River Lea flows through Hertford, offering scenic walks along its banks, perfect for leisurely strolls and picnics. The nearby Hartham Common provides open green spaces for relaxation and outdoor activities.

Hertford Museum: Immerse yourself in the local history and heritage at Hertford Museum. Discover artefacts, exhibitions, and interactive displays that showcase the town's past.

Hertford Theatre: Enjoy a variety of live performances, including plays, musicals, concerts, and comedy shows, at the Hertford Theatre. It also hosts film screenings and offers a vibrant cultural hub for the community.

Social Clubs: Hertford boasts a range of social clubs catering to various interests. There are clubs for sports enthusiasts, such as cricket, rugby, football, and tennis. Additionally, you can find social clubs focused on hobbies like photography, art, gardening, and more. These clubs provide opportunities to connect with like-minded individuals and pursue shared interests.
The town also hosts a variety of community events and festivals throughout the year, offering opportunities to engage with the local community and celebrate the town's vibrant spirit.
Please note that the availability and specifics of attractions and social clubs may vary, so it's always a good idea to check with local sources or visit their respective websites for the most up-to-date information on attractions and clubs in Hertford.