Crate Hire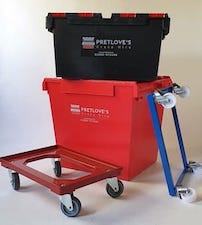 At Pretlove's we like to give our customers options and we are pleased to be able to offer a more eco-friendly, quicker, safer way of packing.
After doing research, it was alarming to find how much cardboard is wasted every year. According to the United States Environment Protection Agency, in 2017 over 18 million tons of cardboard went into landfill.
We've been in the removals and storage business since 1904 and we are always thinking ahead. We like to lead by example in our industry, to take us a more eco-friendly future.
We think there's no debate about the benefits of hiring crates:
stronger – more durable, stackable,
no folding and no tape required, simply open and pack,
eco-friendly – reusable (sanitized clean after every use),
weatherproof,
can be sealed (tamper proof tags can be provided).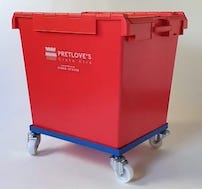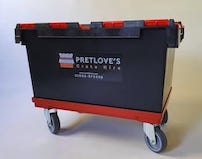 We have different size crates for both domestic and commercial removals and storage. Even if you're not using our services, crates can still be hired.
We do have a minimum hire period of seven days. If you require crates for longer this can be extended.
Hiring crates is as easy as getting in contact.
Get in contact with us by phone, (01992) 573356 or email, info@pretlovescratehire.co.uk
Let us know how many crates you require to hire or buy. For moving crates around easily we can also hire out skates, if required.
Pretlove's Crate Hire will provide a quotation along with details of our terms & conditions. On agreement we arrange a date and time for both drop-off and collection, Pretlove's will send out an invoice along with a form which we require a signature of acceptance as per our terms and conditions along with the hire period as agreed. Clean and empty crates are delivered and signed for. Our office will then phone prior to collection to make sure we are able to collect crates on the agreed day.