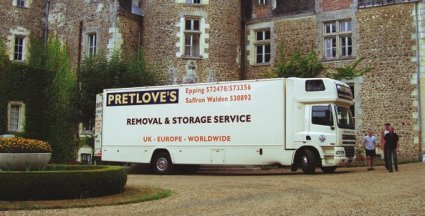 United Kingdom removals
Our offices are in Epping, Saffron Walden, Haverhill and Cambridge and Pretlove's offers household and commercial removals to all parts of the UK, whether it be a local move or a move to any part of England, Scotland, Wales or Northern Ireland.
All of our staff are fully trained in the art of furniture removal and will provide the care required to make your moving day go as smoothly as possible. At the delivery address the movers will place furniture and effects in the various rooms according to requirements, and in this respect, a floor plan of the house is useful to get everything in the right place.
We provide a removal service to your requirements, whether it be a part-move only or a full removal service. A packing service, if required, can also be offered in the following options:
Pretlove's part-packing service for china, glass, ornaments, pictures, mirrors and other breakable items.
Pretlove's full-packing service which would include the above plus books, balance of kitchen effects, bedding, linen and all other sundry items.
In the case of the customer undertaking all or part of the packing, a number of cartons, tape and linen bags will be included as part of the quotation. Additional packing materials, such as wrapping paper and bubble-wrap, can be supplied at an extra charge. The number of cartons and packing materials will be specified on the quotation and delivery of these should be arranged when making a booking.
Hanging wardrobes for clothes come as part of the equipment on the vehicle and unless previously arranged, are returnable on the day of removal. However, if you are dismantling of wardrobes prior to the removal date, these can be supplied at the same time as the delivery of boxes.
When packing, boxes should be clearly marked as to which room they are destined for, and if you are undertaking the packing of breakable items yourself, clearly marked "fragile". See our Moving Tips page for more advice.
We would point out that under the terms of our contract, owner-packed items are not covered against the risk of breakage.