Pretlove's is a family-run removals and storage company established in 1904
Chelmsford Removals Company
Request a quote
Are you looking for removals to Chelmsford?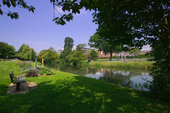 Contact Pretlove's if you need removal and storage services in Chelmsford or the surrounding area.
Chelmsford is the county town of Essex and has a population of approximately 102,000. A lively, modern town, it is well-placed to be within commutable distance of London. Chelmsford is rich in retail, leisure and cultural services as well as being an important business centre in Essex. Good transport links include a rail service to London Liverpool Street and out to the east of Essex and East Anglia; the A414/A138 are the closest roads to the town; and Chelmsford is 30 minutes from London Stansted airport.
Pretlove's can provide Chelmsford removals and storage, and services to the surrounding villages of: Broomfield, Chignall, Galleywood, Great Baddow, Margaretting, Springfield, and Writtle, and to the nearest main towns of:
Basildon
Billericay
Braintree
Great Dunmow
Maldon
South Woodham Ferrers
Wickford
Pretlove's would love to help with your Chelmsford removals or storage requirements. You can find local information and contacts on our Chelmsford Moving Guide page.
Request a quote
Why choose Pretlove's for Removals to Chelmsford?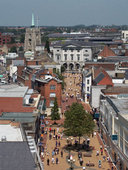 Pretlove's is a family-run removals and storage company established in 1904. We carry out both household and commercial removals to all parts of the United Kingdom as well as European and overseas destinations. We have some of the most up-to-date warehouse facilities, purpose built for the safe storage of household furniture and effects.
The removals firm has been in the Pretlove family for four generations. Many of the movers in our dedicated removal team have years of experience. They will ensure your property is treated with the expertise and care you would expect.
We are aware of the stress that house moving causes, but more than 100 years of removals and storage experience has taught us how to reduce this. We have a wealth of moving tips to help your household move go as smoothly as possible.
Why Move to Chelmsford?
Welcome to Chelmsford, a city that perfectly blends the charm of a historic past with the vibrancy of modern living. Moving to Chelmsford means embracing a place that offers an exceptional quality of life and a warm community spirit.
First and foremost, Chelmsford provides the best of both worlds. Situated in the picturesque county of Essex, it offers a peaceful and welcoming environment while being within easy reach of the bustling city of London. You can enjoy a quieter, more relaxed lifestyle while still accessing all the amenities and opportunities of a major city.
Chelmsford boasts a rich history reflected in its stunning architecture, including the iconic Chelmsford Cathedral and the historic High Street. Explore the city's past at the Chelmsford Museum and delve into its vibrant cultural scene, with art galleries, theatres, and regular events that showcase local talent.
The city also provides excellent educational opportunities. With prestigious schools like King Edward VI Grammar School and Chelmsford County High School for Girls, parents can rest assured that their children will receive a quality education.
Chelmsford's thriving city center is a shopper's paradise, offering a wide range of stores, boutiques, and markets. Indulge in culinary delights at the many cafes, restaurants, and pubs that cater to diverse tastes.
For nature enthusiasts, Chelmsford offers an abundance of green spaces and parks, such as the beautiful Hylands Park, where you can enjoy leisurely walks, picnics, and outdoor events.
Transportation is convenient with excellent rail and road connections. London is just a short train ride away, opening up a world of career opportunities, entertainment, and cultural experiences.
Moreover, Chelmsford has a strong sense of community. Join local clubs and societies, participate in community events, or simply strike up conversations with friendly locals who are known for their warm hospitality.
So, whether you're drawn to its rich history, cultural offerings, convenient location, or welcoming community, Chelmsford is a city that offers a truly enjoyable and fulfilling lifestyle. Come and be a part of this wonderful community, where old-world charm meets modern possibilities.
Request a quote
Property Prices in Chelmsford
Chelmsford has a diverse range of property prices. While property prices can vary depending on factors such as location, property type, and size, Chelmsford generally offers a more affordable housing market compared to some neighbouring areas and major cities.
The average property prices in Chelmsford were relatively lower compared to London but higher than the national average. The city offers a mix of housing options, including flats, terraced houses, semi-detached houses, and detached houses, catering to different budgets and preferences.
According to Zoopla, the average sold price for a property in Chelmsford in the last 12 months to July 2023 is £410,000.
Different property types in Chelmsford have different average sold prices over the last 12 months:
Detached - £685,000
Semi-detached - £445,000
Terraced - £375,000
Flats - £230,000
It is advisable to consult with local estate agents or online property portals to get the most up-to-date information on property prices in Chelmsford.
Schools in Chelmsford
Chelmsford is home to several schools catering to different educational needs. Here are some notable schools located in Chelmsford:
Local Attractions & Social Clubs in Chelmsford
Chelmsford offers a variety of local attractions and social clubs for residents and visitors alike. Here are some highlights:
When it comes to social clubs, Chelmsford offers a range of options catering to various interests. Whether you're into sports, arts, or hobbies, you can find like-minded individuals to connect with. Chelmsford City FC is a popular football club, while Chelmsford Cricket Club caters to cricket enthusiasts. The Chelmsford Art Society and Writebulb provide creative outlets for artists and writers.
Furthermore, Chelmsford has numerous social and recreational clubs that host regular events and gatherings. From book clubs to walking groups, photography societies to dance clubs, there are opportunities to meet people and pursue your interests throughout the city.